4:19 pm | February 12, 2014
---
A great article for all of our pet loving fans.
http://www.reshareworthy.com/20-facts-for-dog-lovers/
5:17 pm | February 11, 2014
---
Surprise your sweetheart with a custom pet portrait gift certificate from Todd and Jimmydog. They will LOVE this most thoughtful and personal gift that includes the other sweethearts in their life. It's quick and easy and can all be done over the phone. Call us at 336-201-7475 to get yours just in time for the big day.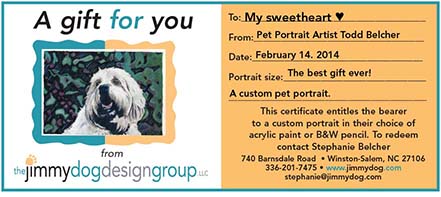 6:11 pm | February 6, 2014
---