2:38 pm | January 31, 2022
---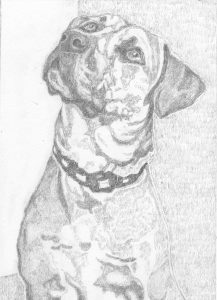 In memory of Shug Knight. As a Newcomer's Club ambassador, our own Jimmy Belcher was there to greet Shug as he flew across the bridge. His pack shared this wonderful letter they received updating them on how well Shug was settling in.
Dear family,
Hi! It's Jimmy and my good dog pal Joey checking in from the other side of the Rainbow Bridge. We've been running around — literally — trying to keep up with one of our newest arrivals, your very good and energetic boy Shug Knight!
Most of our new dog arrivals bound over the bridge, excited to feel good again and eager to explore their new world. Shug practically flew across, crashing into labs and goldens who'd assembled as that day's Welcoming Committee (they didn't mind!) and giving the border collies on the Pack Placement Committee big, sloppy kisses (they didn't mind either!).
Once Shug got his housing assignment, Joey and I introduced ourselves as ambassadors for the Rainbow Bridge Newcomers Club and led him over to a huge, sprawling house.
"Hello! We're happy to have you here!" barked Buddy, a handsome fellow with a fluffy, midnight-black coat. "Come in! Come in!"
Gypsy and Shoonkeek were in the living room, playing with toys while waiting for a Leg Lyft to take them to the beach for the afternoon. Meanwhile, Bibi, Rocco, Theresa and Molly were hanging in the kitchen, slurping up big bowls of water with their cousin Rusty. They'd just gotten home from the Wheels in Motion Adventure Park, where they had spent the morning chasing riderless bicycles and skateboards. When we walked in, they were debating who had come closest to catching a hamster, who roll safely through the park's trails tucked inside their exercise balls.
Buddy led us down a long hallway lined with bedrooms. "This used to be a two-story house, but when I arrived, they remodeled to put everything on one level. I'm not a fan of stairs," Buddy explained, as he opened the door to Shug's room.
Shug ran in, skidding to a stop near the center. The room was outfitted with cushy beds and overflowing toy chests, and in the center was a Pup Tent, scented with campfire smoke and leaf mold. "This is the best!" Shug woofed, as unzipped the front and scampered inside. When he found a supply of grilled hot dogs in a warming drawer, he amended his verdict: "This is better than the best!"
We munched on the wieners as Buddy showed Shug the TV.
"Not a big TV watcher," Shug said.
"Even dogs who aren't into TV usually like one channel," Buddy replied, pushing 2521 on the remote. An image of their family back on the other side of the bridge appeared. Shug rushed to the TV, licking the screen and barking at Chance. "She can't hear you," Buddy explained. "But, whenever you want, you can flip to this channel and see what everyone is doing." Shug pawed at the screen, mesmerized.
"Shug, if we can tear you away for a while, there is someplace else we'd like to show you," I said. And so Shug, Joey and I hailed a Leg Lyft to the Don't Fence Me In Dog Park and Recreation Area. It's a big, grassy field lined with rows and rows of barriers — chain-link and white picket fences, stone walls, wrought-iron rails of all lengths and heights.
Shug leaped out of the Leg Lyft before it had come to a full stop and raced to a stretch of fence dotted with various types of gates and doors. He nudged the latch on the first one with his nose and hooked his paw under the bottom, pulling the panel toward him as he snaked through to the other side. A timer tracked his progress: an impressive three seconds. He worked his way down the row and then ran back to us, accompanied by our friend Arlo Jean, a black lab-husky mix and former escape artist herself. Shug had been there 20 minutes, opened all those gates in record time — and made a new pal!
Joey and I had more work to do as Newcomers Club ambassadors, but we knew we were leaving Shug in good paws at the park. We said our goodbyes and watched as Arlo Jean and Shug sprinted over a low stone wall. As they disappeared on the other side, we could hear Shug bark, "Race you to the picket fence!"
Joey and I have a feeling Shug won. On this side of the Rainbow Bridge, all dogs are winners.
Tail wags and doggy kisses!
Jimmy