2:26 pm | December 16, 2021
---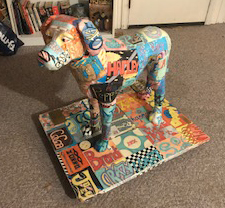 A happy tail: Way back in 2006, my volunteer hours were spent working with the Forsyth Humane Society Development (Fundraising) Committee and the very first Art Unleashed fundraiser. My role was the artist coordinator and I had a wonderful time
working with all the amazing talent and helping our participating artists bring their ideas to life on fiberglass dog and cat forms. One of these was particularly special to me as Todd and I and a generous group of friends sponsored one of the forms created by the art students at Glenn High School. Their design "Companion Quilt" is made up of squares designed by each student to honor a beloved pet. I was so touched to see that not only did they create squares for my Freddie and Joey but also dedicated the entire form to my Jimmydog complete with our logo and Jimmy's sweet face.
Fast forward to last week at FHS. I stop by to drop something off and there in the lobby is "Companion Quilt," looking a little lost and forlorn. I hadn't seen it since I unsuccessfully tried to win it at the auction in 2006 and now we've been able to adopt it and I'm so happy that it's home where it belongs at the Jimmydog Pet Portraits world headquarters.
Over the years, we did 4 Art Unleashed events and of all the artists, forms and designs that I was privileged to work with, this one always had the most special place in my heart. Incidentally, that first auction raised over $125,000! A grand evening and a great event.
2:57 pm | December 8, 2021
---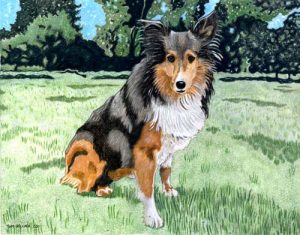 The Shetland Sheepdog is a high-energy, people-pleasin', award-winnin' pup. This sweet-natured breed has it all—brains, beauty and brawn. They literally excel at everything they do: show ring, agility and herding competitions, therapy and herding jobs, and of course, stealing your heart. The Sheltie (as their fans call them) are clearly over-achievers whose playful and affectionate nature makes them a great choice for newbie pet parents. They're ready and eager to join in all your adventures, whether it's playtime in the backyard or a weekend camping trip. And, seriously, those gorgeous eyes?
Bo. 11″x14″acrylic on fine art acid free paper. ©2021 Todd Belcher/Jimmydog Pet Portraits