4:07 pm |
---
Say hello to the Freeda. Todd's latest portrait is a memorial to this beautiful girl. Her people tell us that she was adopted from the Catawba County Humane Society at about 9 months old, a free spirited gal that got along with everyone; dogs, cats, people. She loved car rides with fall being her favorite season. Once outside playing in the leaves, it was so hard to get her to come in the house. In the backyard, she could camouflage herself among the fallen leaves. She was dearly loved and so missed but we have it on very good authority that she's doing well at the bridge reunited with her sister Fred once again.
4:04 pm |
---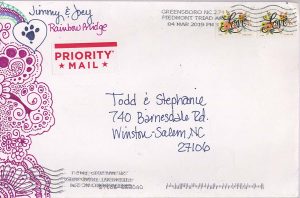 Every year, volunteers with Unchain Winston get together for a party to celebrate their hard work building fences and providing proper shelter for dogs so they can play safely outside. We learned that this year, there was another big celebration happening at the same time, as the pets of UNchain Winston volunteers who've crossed the Rainbow Bridge threw their own big shindig. Our dogs Jimmy and Joey were lucky enough to be invited and Jimmy sent us this report. Spoiler alert: They had a blast!
Dear Stephanie & Todd,
Joey and I just got home from the biggest, most fun party and we have to tell you all about it before we even think about going to sleep.
From the moment we received the invitation a couple of weeks ago, we knew it was going to be a memorable event. The invitation arrived one afternoon when Joey and I were having a nap. Joey alerted to a faint scratch at our door, bounded over to investigate and found two guinea pigs on the front porch, carrying a giant envelope. (Well, it was a regular-size envelope, but huge compared to the guinea pigs.) They waggled their heads up and down, encouraging Joey should take the envelope from their mouths, and, when he did, they introduced themselves as Hugs and Kisses. I ripped it open to find an invitation that said: "You're invited to a party! Help us celebrate all the good work of the UNchain Winston volunteers."
Of course, we know all about UNchain Winston from Stephanie's work with the group, and our TV isn't the only one around here on Sunday mornings tuned to channel 4881 to watch the lucky dogs run and romp after the volunteers fence their yards. (Read more about UNchain Winston below.) We told Hugs and Kisses they could count on us to be there!
The day before the party, Joey and I headed to the neighborhood square for a relaxing fur trim and brush out, and then splurged on festive new collars. We wanted to look good and, because we are Belcher dogs, we wanted to be right on time for the big event. So, the day of, we woofed for a LegLyft, putting Hugs and Kisses' address into the dashboard navigation system. We rode through two neighborhoods before pulling up to an enormous house, one of the biggest we've seen here. It makes sense: Hugs and Kisses are tiny but they are part of the Mooerfield clan, one of the largest families of animals here. The yard was lit up with twinkly lights, and dogs and cats were streaming into the house, some arriving in LegLyfts like us; others arriving on paw.
We weren't the only ones who'd spent a little time at the spa. Everyone looked fabulous, and quite a few dogs were sporting new outfits. We spotted Lily Jade, a beautiful white short-hair with one blue eye and one brown eye, trying to make her way into the house but being slowed by all the dogs sniffing around her. Her pal Isabelle, a sweet husky mix and quite a looker herself, kept a watchful eye.
Greeting everyone at the door was a trio of Malamutes, Ryoku, Tenchi and Okami, who welcomed everyone with a hearty woof, and a big, fluffy cat named Simon, who offered to show us around.
"Help yourself to anything you want," Simon told us as we passed an enormous water bar, featuring waters from all the best lakes, streams and ponds around here, all available in bowls or on tap. Across from the waters was biggest spread of snacks I've ever seen: freshly baked biscuits laid out on trays, treats packed into balls and toys, bones piled high on butcher blocks. Joey was intrigued by a large, shallow tub that looked like a giant cat litter box but turned out to be a bed of crushed kibble dotted with cat-poop-shaped sausages. "That was the dogs' idea," Simon said, clearly not happy with the presentation.
Videos of UNchain Winston fence builds played on a big-screen TV in the background and music blasted onto a dance floor. We caught Blue, an adorable Cane Corso, and Jill, a sweet gray and white mix, dancing to "Everything Reminds Me of My Dog," a catchy little tune by Jane Siberry. A sweet pair of dogs named Fred and Freeda took a spin on the floor when Dolly Parton's "Cracker Jack" came on. Joey and I liked the deep cuts DJ Dixie was spinning and are happy to report to Todd we didn't hear that awful "Who Let the Dogs Out?" even once during the party. In appreciation, we put a couple of bones in Dixie's tip jar.
As Joey and I watched everyone dance, Clifford, a handsome lab, wandered over to see if we were having a fun. "Have you gotten enough to eat? To drink?" he asked. We told him we were having a blast. "Don't forget to check out the back yard. That's where all the games are," he said before trotting over to a cat who seemed to have arrived at the party by herself.
Games? We had no idea there were games, too! As we headed outside, we met Tucker, a long haired black and white mix who was helping to organize all the animals into teams, while two sugar gliders, Skittles and Jinx, jumped from tree to tree, supervising the play.
Retrievers from the neighborhood were lined up at an automatic ball-throwing station. Judging by the drool crusting on the tennis balls and dripping from their mouths, they'd been at awhile, and it wasn't long before Clifford popped by to make sure they were drinking enough water.
Joey and I signed up for "How the Cookie Crumbles," racing Okami and Tenchi and one of the newest arrivals, Buddy to see which team could scarf biscuit crumbs off the patio the fastest. Hugs and Kisses declared it a tie, and Ryoku presented us all with blue ribbons for our collars.
Worn out and full, we settled into the grass to watch Tucker and his best pal Penny compete in tug-of-war. They were still going at it when we decided it was time for us to head home. As we were leaving, Simon told us the party was such a hit they were already planning another for next year. I don't know how they'll be able to top it!
We hope your UNchain Winston volunteer party was as fun as ours — and that you didn't fill up on the litter-box sausages!
Tail wags and doggy kisses!
Jimmy
P.S. UNchain Winston is a great organization that does so much to improve the lives of dogs. The group's primary goal is to build fences for dogs in and around Winston-Salem, North Carolina, so they can be safe and secure while outside. The nonprofit also builds and distributes dog houses, provides temporary dog pens, offers free and low-cost spay/neuter, and educates people about proper pet care.
* Donations to the group can be made via https://www.forsythhumane.org/donate-now Select UNchain Winston in the "This donation is for" section.
* If you're interested in volunteering, visit http://www.forsythhumane.org/unchain-winston.
* And don't forget to follow Unchain Winston on social media!