2:38 pm | January 31, 2022
---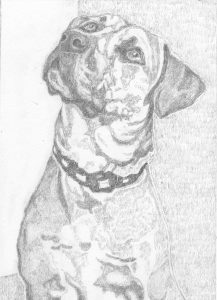 In memory of Shug Knight. As a Newcomer's Club ambassador, our own Jimmy Belcher was there to greet Shug as he flew across the bridge. His pack shared this wonderful letter they received updating them on how well Shug was settling in.
Dear family,
Hi! It's Jimmy and my good dog pal Joey checking in from the other side of the Rainbow Bridge. We've been running around — literally — trying to keep up with one of our newest arrivals, your very good and energetic boy Shug Knight!
Most of our new dog arrivals bound over the bridge, excited to feel good again and eager to explore their new world. Shug practically flew across, crashing into labs and goldens who'd assembled as that day's Welcoming Committee (they didn't mind!) and giving the border collies on the Pack Placement Committee big, sloppy kisses (they didn't mind either!).
Once Shug got his housing assignment, Joey and I introduced ourselves as ambassadors for the Rainbow Bridge Newcomers Club and led him over to a huge, sprawling house.
"Hello! We're happy to have you here!" barked Buddy, a handsome fellow with a fluffy, midnight-black coat. "Come in! Come in!"
Gypsy and Shoonkeek were in the living room, playing with toys while waiting for a Leg Lyft to take them to the beach for the afternoon. Meanwhile, Bibi, Rocco, Theresa and Molly were hanging in the kitchen, slurping up big bowls of water with their cousin Rusty. They'd just gotten home from the Wheels in Motion Adventure Park, where they had spent the morning chasing riderless bicycles and skateboards. When we walked in, they were debating who had come closest to catching a hamster, who roll safely through the park's trails tucked inside their exercise balls.
Buddy led us down a long hallway lined with bedrooms. "This used to be a two-story house, but when I arrived, they remodeled to put everything on one level. I'm not a fan of stairs," Buddy explained, as he opened the door to Shug's room.
Shug ran in, skidding to a stop near the center. The room was outfitted with cushy beds and overflowing toy chests, and in the center was a Pup Tent, scented with campfire smoke and leaf mold. "This is the best!" Shug woofed, as unzipped the front and scampered inside. When he found a supply of grilled hot dogs in a warming drawer, he amended his verdict: "This is better than the best!"
We munched on the wieners as Buddy showed Shug the TV.
"Not a big TV watcher," Shug said.
"Even dogs who aren't into TV usually like one channel," Buddy replied, pushing 2521 on the remote. An image of their family back on the other side of the bridge appeared. Shug rushed to the TV, licking the screen and barking at Chance. "She can't hear you," Buddy explained. "But, whenever you want, you can flip to this channel and see what everyone is doing." Shug pawed at the screen, mesmerized.
"Shug, if we can tear you away for a while, there is someplace else we'd like to show you," I said. And so Shug, Joey and I hailed a Leg Lyft to the Don't Fence Me In Dog Park and Recreation Area. It's a big, grassy field lined with rows and rows of barriers — chain-link and white picket fences, stone walls, wrought-iron rails of all lengths and heights.
Shug leaped out of the Leg Lyft before it had come to a full stop and raced to a stretch of fence dotted with various types of gates and doors. He nudged the latch on the first one with his nose and hooked his paw under the bottom, pulling the panel toward him as he snaked through to the other side. A timer tracked his progress: an impressive three seconds. He worked his way down the row and then ran back to us, accompanied by our friend Arlo Jean, a black lab-husky mix and former escape artist herself. Shug had been there 20 minutes, opened all those gates in record time — and made a new pal!
Joey and I had more work to do as Newcomers Club ambassadors, but we knew we were leaving Shug in good paws at the park. We said our goodbyes and watched as Arlo Jean and Shug sprinted over a low stone wall. As they disappeared on the other side, we could hear Shug bark, "Race you to the picket fence!"
Joey and I have a feeling Shug won. On this side of the Rainbow Bridge, all dogs are winners.
Tail wags and doggy kisses!
Jimmy
3:15 pm | January 27, 2022
---
Dear Stephanie & Todd,
Please tell Betty "Happy Gotcha Day" from her Rainbow Bridge pack!
One night recently, Joey, Freddie, Luna and I were sitting around the Fire Hydrant chewing bones and reminiscing about our lives with you — the best people ever — and talking about how well Sally and Betty are doing following in our pawsteps.
We are so proud of them for carrying on the Belcher name and serving as very good chief canine officers for Jimmydog. As the namesake of the business, it's especially important to me that they represent the company well!
At the Fire Hydrant that night, Luna reminded us that it took a good long while to find Betty for you, but we all agreed she was worth the wait! Did I ever tell you the story about how we chose Betty to be your next dog? It's good tail. (Tail, get it? Ha!)
Because Luna had crossed the bridge unexpectedly, she wanted to take the lead in the search for the next Belcher pup. Freddie wasn't sure because she likes to be in charge of everything. When we agreed Freddie could have veto power, she was fine with Luna leading the search. Joey and I scoured all the usual sources, including PackFinder and the rescue pages of Snoutbook, and considered hundreds of dogs, sending the ones we thought best to Luna for her to sniff out more information about them.
A few months went by and still no pick. Freddie called a family meeting to ask about the delay. "I admit Jimmy and Joey have sent me many good boys and girls to consider, but I haven't seen the right dog yet," Luna said.
Then, around holiday time last year, Luna was bouncing around the house, literally on and off the tables and counters with excitement — and also to grab food — but mostly with excitement. "I have an announcement: I have found the next Belcher pack member." She grabbed her iPaw and pulled up a photo of a cute little terrier (emphasis on little), her head twisted into the most dramatic head tilt we'd ever seen. (When our friend Arlo, herself an expert head tilter, saw the photo she declared Betty must be a super smart dog. "Head tilts are a sign of intelligence," Arlo said, twisting her own head to the left so her ear touched her shoulder.)
"She's sweet, cuddly and loving. And she loves to go for car rides and walks — a must for any Belcher dog. She also likes other dogs, so she'd be a good sister for Sally," Luna said, pointing out the many pluses in Betty's favor. "Plus, she's a talker who has a lot to say. You know how much Stephanie likes a good conversation."
"Well, if you think she'd be great, then she gets my vote," Joey said. I chimed in: "I agree!"
We all looked to Freddie. "I'll need to sleep on it," she said. So, 12 hours later, when Freddie finally woke up, we asked again. "I'm still thinking," she said, heading out to her namesake Freddie Belcher Follow Your Nose & Feel the Wind Trail System for a morning of walking trails and riding in LegLyfts.
While there, she met a small dog named Birdie. They shared a LegLyft between trails and took off down a wooded path together. "Wow!" Freddie said, as Birdie ran alongside her. "You can really keep up."
"My people named me Birdie because I can fly down the trails," Birdie said. "Small dogs can do anything big dogs can do — and sometimes even better!"
"You're right," Freddie said, thinking as they stopped to sniff some bushes. "Let me show you a dog we're thinking about sending to our people to be the next member of the pack."
"That's such an important job, choosing the next pet," Birdie said.
"Our most important job," Freddie agreed, giving Birdie her iPaw so she could see the photos and read the Betty's bio.
"She sounds perfect! Your people would be lucky to adopt her," Birdie said, handing Freddie's iPaw back to her.
"Hmm. The thing is, we've always been a big dog pack," Freddie explained.
"Surely, you've gotten to know lots of small dogs since crossing the bridge?" Birdie said. "Big dogs, small dogs, medium dogs — all dogs are the best dogs. Does she meet all your other requirements?"
Freddie considered the question and told Birdie it was time to for her to get home.
"Thanks for the fun playdate!"
When Freddie arrived home that afternoon, she gave Luna a big paw up: Little Betty would be the newest member of the Belcher pack. We celebrated by going down to The Watering Hole for drinks.
"What helped you make up your mind?" Joey asked later that night when he and Freddie were alone chewing bones.
"A little Birdie whispered in my year," she said.
Every day for the past year, Betty has proved that we made the right choice. We love watching Family Channel 740 and seeing Sally and Betty go for walks, and all four of you having fun together.
We're especially impressed by the new Chase with Stare-Off game Betty and Sally have created. Super high degree of difficulty the way they play it on the stairs!
But mostly we're happy for Betty. As the best people ever, you two have the biggest hearts of any people we've ever known, and the dogs you love are the luckiest dogs in the world.
Give Betty and Sally big hugs from us. And thank you for your never-ending love — the love that allows Joey, Freddie, Luna and me to live on in this magical place.
Tail wags and doggy kisses,
Jimmydog Pet Portraits
P.S. I'm sorry it took a while for this pupdate! I've been super busy with my Rainbow Bridge letters and social media, plus all the playing and napping!
3:13 pm |
---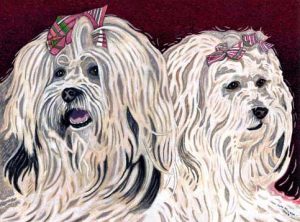 Valentine's Day is just around the corner. If you're in search of the perfect gift for your sweetheart—be that valentine, galentine, or canine pal-entine—we've got you covered! Why not give them a custom pet portrait gift that will be sure to get their tails wagging? Contact us today to see how easy it is.
Sophie and Lucy. 11″x14″ acrylic on acid free fine art paper. ©2022 Todd Belcher/Jimmydog Pet Portraits