3:55 pm | December 17, 2018
---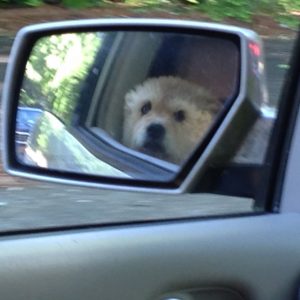 It's been a big weekend at Jimmydog! Freddie, our semi-retired chief canine officer and our very best girl, turned 16. She's growing up so fast! We're thrilled to have had so many good years with her and were overjoyed to celebrate her special day. And, honestly, 2018 has been a tough, tough year for our pack. It feels good to have a happy event. We took her for a special outing and showered with her treats and bones. Read on to see what she's got planned for herself.
Dear friends,
I'm turning 16! Sweet 16! And you know what that means: I can drive by myself!
Oh, the freedom! No more waiting for Todd to finish a pet portrait or convincing Stephanie to take me along on an errand. I can go wherever and whenever I want all by myself. And I know just where I'll go: Triad Park, Horizons Park, Bethania Park, Miller Park, Shaffner Park, Quarry Park, then back to Triad Park because it's my favorite, then back to Horizons Park because it's my second favorite and so on and so on.
I can drive over to my pal Max's house to pick him up and then swing by and get Biscuit, who lives around the corner from Max. Biscuit just turned 17 and is super sophisticated. She's been going to bars with her people since she was a puppy and even has a collection of evening-wear collars — black with metal studs for the biker bars, rhinestones for the upscale bistros. She knows the best places for grabbing a cold drink of water or dog watching, and I bet she can get us into all the hotspots with just a tail wag to the bouncer.
If I'm feeling really adventurous — and when am I not feeling adventurous?— I might even drive over to Greensboro and fetch (fetch, get it?!) my little buddy Guilford, who just celebrated his own birthday. Guilford has learned a lot from me over the years, convincing his mom not only to take him for several walks, but also a daily car ride. With all his time on the road, Guildford soon will be ready to get behind the wheel himself, though, as a little guy, he'll need a booster seat, or a tiny car.
Hmm. With all the driving I'll be doing, I hope someone thought to get me a gift card to a gas station for my birthday — and maybe a cute purse to carry it in. I bet Todd will surprise me with both during an extra-special Sweet 16 bone time.
But dogs don't drive, you say. Pshaw, I say. Dogs don't usually become chief canine officers for a renowned pet portrait and graphic design company but I did — and was just a pup when I got the job. You might call me a prodigy. (And if you do, can you explain to me what that means? I heard it said about an 11-year-old boy who graduated from college and it seems like he and I are pretty much the same in terms of being over-achievers.)
If you recall, I got my learner's permit when I turned 15 but that was just a formality because I've been practicing driving all my life. And by practicing, I mean watching Todd and Stephanie drive when I'm not looking out the car window, taking a nap in the back seat or asking, "Are we there yet?"
But driving by yourself is easy enough: I stick a key under the circle thing (I've been practicing doing that using my teeth), then push the stick thing into gear with my paw and go. I need a little help getting the car door open at first, but otherwise, I'm set.
Oh, and now that I think about these outings I have planned, I'll need someone to carry the car keys while I explore the many parks. Don't want to drop those in the underbrush when I'm hot on the trail of a chipmunk. Also, I'll need someone to carry that cute new purse with the gas station gift card in it. Can't have a heavy bag weighing me down on my walks. I wonder if Todd and Stephanie would be willing to do that for me?
And what do I do on those days when Max, Biscuit or Guilford can't hang with me? Max keeps his schedule packed with squirrel chasing while Guilford's equally busy with cozy naps under the covers of his mom's bed. And Biscuit is not only a gal about town, she's often a gal out of town. Worldly girl that she is, she travels a lot.
What fun will it be to go to all the parks by myself?
OK, new plan. Even though I'm perfectly capable of driving myself and now of legal age to do so, I will only go places if Todd or Stephanie can go, too. There, that's a great plan. I'll drive and they can co-pilot, which is good because I haven't found a navigational app that gives directions in Woof, my first language.
I'm liking this new plan more and more. Think how much fun Todd and Stephanie will have hanging their heads out the window, the wind blowing in their tiny human ears. They can even curl up for a nap in the back seat if they want.
I can't wait to tell Todd and Stephanie my plans. I hope I get that gift card and purse or, dare I dream, a new car? That would be so exciting. But whatever I get, there are no better gifts than the ones I've already received — a long, happy life with the greatest people ever.
Yours in dogness,
Freddie
3:54 pm |
---
Happy birthday Freddie! Today, our Chief Canine Officer is Sweet 16. Her celebration will include a long walk, her favorite beef stew dinner, lots of treats and love. We're grateful that she still loves doing all her favorite things. To help her celebrate, she'd love lots of good wishes and photos of her pet friends.