3:16 pm | February 3, 2021
---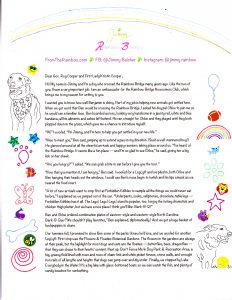 Gov. Roy Cooper and First Lady Kristin Cooper,
Hi! My name is Jimmy and I'm a dog who crossed the Rainbow Bridge many years ago. Like the two of you, I have a very important job: I am an ambassador for the Rainbow Bridge Newcomers Club, which brings me to my reason for writing to you.
I wanted you to know how well Benjamin is doing. Part of my job is helping new arrivals get settled here. When we got word that Ben would be crossing the Rainbow Bridge, I asked his dog pal Chloe to join me so he would see a familiar face. Ben bounded across, looking very handsome in a jaunty red, white and blue bandana, all this ailments and aches left behind. He ran straight for Chloe and they played until they both plopped down in the grass, which gave me a chance to introduce myself.
"Hi!" I woofed. "I'm Jimmy, and I'm here to help you get settled in your new life."
"Nice to meet you," Ben said, jumping up to extend a paw in my direction. (Such a well-mannered boy!) He glanced around at all the cheerful arrivals and happy reunions taking place around us. "I've heard of the Rainbow Bridge. It seems like a fun place — and I'm so glad to see Chloe," he said, giving her a big lick on her cheek.
"Are you hungry?" I asked. "We can grab a bite to eat before I give you the tour."
"Now that you mention it, I am hungry," Ben said. I woofed for a LegLyft and we piled in, both Chloe and Ben hanging their heads out the windows. I could see Ben's nose begin to twitch and his lips smack as we neared the food court.
"A lot of new arrivals want to stop first at Forbidden Edibles to sample all the things we could never eat before," I explained as we jumped out of the car. "Underpants, socks, cellphones, chocolate, table legs — Forbidden Edibles has it all. The Legs! Legs! Legs! stand is popular, too. I enjoy the turkey drumstick and chicken thigh platter, but we have a new place I think you'll like: Bark-B-Q!"
Ben and Chloe ordered combination plates of eastern-style and western-style North Carolina Bark-B-Que ("We shouldn't play favorites," Ben explained, diplomatically.) And we got a huge basket of hushpuppies to share.
Our tummies full, I promised to show Ben some of the parks I knew he'd love, and we woofed for another LegLyft. First stop was the Flowers & Floaties Botanical Gardens. The flowers in the gardens are always at their peak, but the highlight for most dogs and cats are the floaties — butterflies, bees, dragonflies — that they can chase to their hearts' content. Next up: Don't Fence Me In Dog Park & Recreation Area, a big, grassy field lined with rows and rows of chain-link and white picket fences, stone walls, and wrought iron rails of all lengths and heights that dogs can jump over and dig under. Finally, we stopped by Lake Everybody in the Water! It's a big lake with glass-bottomed boats so we can watch the fish, and plenty of sandy beaches for sunbathing.
"Those are just some of the fun places," I said. "There's so much to do and new parks are always opening. We also have mountains and beaches for daytrips and vacations."
"You can check DoggyDoings for a calendar of Rainbow Bridge events at the parks, and Snoutbook has meet-up groups," Chloe added. "I'll get you set up on those, Ben. Oh, and here's our house."
Ben and Chloe share a beautiful house — a brick Victorian with a wrought iron fence. The inside is filled with cozy dog beds and stuffed toy boxes. "Here's your bedroom," Chloe said, leading Ben down a hallway to a door marked "First Dog Benjamin." Inside was a monogrammed bed, more toys and a dresser filled with collars, sweaters and coats for special occasions. "Very nice," Ben said. "I will be super comfortable here!"
"Our kitchen is always stocked with our favorites foods, treats and bones," Chloe said, leading Ben and me through the breakfast nook. "But we also can call Pupper Eats and they'll deliver anything we want. I've got a crush on one of their delivery ponies," Chloe confessed. We grabbed pieces of dried sweet potato and turkey jerky from canisters and headed into the living room.
I picked the remote for the large TV hanging on the wall and started scrolling through the channels to show Ben that he can watch the Panthers, Hornets and Hurricanes play whenever he wants. "And there's another important channel," I said, pushing 200 on the remote.
"My family!" Ben said, dropping his jerky and running to press his nose against the screen. "There's my dad, my mom, my human sisters, and all of my dog and cat siblings! I love them so much. They gave me the best life!"
"You can watch them anytime you want," I explained. "It's considered must-see TV around here."
I wanted to give Ben plenty of time to explore his new house and to catch up with you via channel 200, but before I left, I asked, "Ben, I know that on the other side of the bridge, you helped greet visitors to the Executive Mansion. We could use someone with your charm and social skills as a Rainbow Bridge Newcomers Club ambassador. Would you be interested?"
To my surprise, Ben teared up a little. "I would be honored," he said, shaking my paw. "My family taught me many things, including the importance of being kind to all animals and the value of public service. If I could make other animals feel welcome and comfortable after they cross the bridge, I would love to be an ambassador."
"Thanks, Ben," I said. "I think you'll be great."
As I said my goodbyes, I turned to see Ben settle in front of the TV, a smile on this face, his tail gently wagging as he watched your family on the screen. "You always told me I was a good boy" he said, softly. "I will make you proud — even across the Rainbow Bridge."
Tail wags and doggy kisses!
Jimmy