3:15 pm | February 3, 2021
---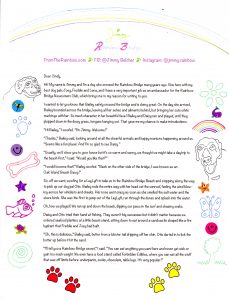 Dear Cindy,
Hi! My name is Jimmy and I'm a dog who crossed the Rainbow Bridge many years ago. I live here with my best dog pals Joey, Freddie and Luna, and I have a very important job as an ambassador for the Rainbow Bridge Newcomers Club, which brings me to my reason for writing to you.
I wanted to let you know that Bailey safely crossed the bridge and is doing great. On the day she arrived, Bailey bounded across the bridge, leaving all her aches and ailments behind, but bringing her cute white markings with her. So much character in her beautiful face! Bailey and Daisy ran and played, until they plopped down in the dewy grass, tongues hanging out. That gave me my chance to make introductions.
"Hi Bailey," I woofed. "I'm Jimmy. Welcome!"
"Thanks," Bailey said, looking around at all the cheerful arrivals and happy reunions happening around us. "Seems like a fun place! And I'm so glad to see Daisy."
"Usually, we'd show you to your house but it's so warm and sunny, we thought we might take a daytrip to the beach first," I said. "Would you like that?"
"I would loooove that!" Bailey woofed. "Back on the other side of the bridge, I was known as an Oak Island Beach Dawg!"
So, off we went, woofing for a LegLyft to take us to the Rainbow Bridge Beach and stopping along the way to pick up our dog pal Otis. Bailey rode the entire way with her head out the sunroof, feeling the wind blowing across her whiskers and cheeks. Her nose went crazy as soon as she smelled the salt water and the shore birds. She was the first to jump out of the LegLyft, run through the dunes and splash into the water.
Oh, how we played! We ran up and down the beach, dipping our paws in the surf and chasing crabs.
Daisy and Otis tried their hand at fishing. They weren't big successes but it didn't matter because we ordered seafood platters at a little beach stand, sitting down to eat around a sandcastle shaped like a fire hydrant that Freddie and Joey had built.
"Oh, this is delicious," Bailey said, butter from a lobster tail dripping off her chin. Otis darted in to lick the butter up before it hit the sand.
"I'll tell you a Rainbow Bridge secret," I said. "You can eat anything you want here and never get sick or gain too much weight. We even have a food stand called Forbidden Edibles, where you can eat all the stuff that was off limits before: underpants, socks, chocolate, table legs. It's very popular!"
After lunch, we spread out big blankets, taking long naps in the sunshine. As the sun began to set, we woofed for another LegLyft and headed to Bailey's new house.
"It's so nice," Bailey said, as Daisy opened the front door of the little bungalow. The living room was full of comfy beds and overflowing toy boxes. "And here's your room," Daisy said, as we trotted down the hallway. A sign on the bedroom door said, "Good Dog." Inside, Bailey found her own cozy bed embroidered with her name and a dresser full of monogrammed collars, coats and sweaters for special occasions. Daisy helped tie a cherry red bandana around Bailey's neck. "You look perfect," I said. "If you ever need more outfits, The Dapper Dog has great clothes. And we've added you to Daisy's Toy of the Week subscription, so that you'll always have something new and fun to play with."
We gave Bailey a quick tour of the kitchen, pointing out the stocked refrigerator and canisters full of bones and treats. "And we can always order from Pupper Eats if you're in the mood for takeout," Daisy said. "Their delivery ponies are so cute. We just have to make sure to have carrots or peppermints on paw so we can give them a tip."
Finally, we made our way back to the living room, settling down with bones we'd grabbed from the kitchen. I motioned to Otis to grab the remote for the big TV hanging on one wall. "You probably know all about TV," I said to Bailey.
"Oh, yes," Bailey said. "My mom is a very, very famous TV person!"
At that moment, Otis pressed 8 on the remote and a beautiful woman with blond hair appeared on the screen. "My mom! My mom!" Bailey dropped her bone and ran to the screen, pressing her nose against it.
"You can watch your mom — and your whole family — whenever you want. Watching our families on the other side of the bridge is considered must-see TV around here," I said.
"And look," Daisy said, handing Bailey a smartphone. "We have the TV app on our phones so we can check in on our family even when we're on the go!" Bailey took the phone gently in her mouth and then laid her head on the small screen.
As we said our goodbyes, Bailey was drifting off to sleep, your voice coming through the phone into her ear. "Even though I've crossed the bridge, I'll never be far away from my mom," she said, a smile curving along her face and her tail gently wagging. "Just like Velcro, I will stick with her forever."
Tail wags and doggy kisses!
Jimmy