4:24 pm | November 20, 2019
---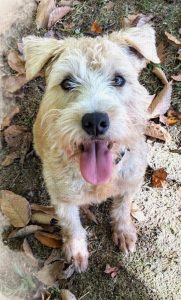 After an intensive search, Jimmydog is pleased to announce it has hired Miss Sally as its next chief canine officer, perhaps the most important role at the company. Sally has no prior experience as a CCO but we saw in her an intelligence and drive that make her well-suited to the role, and she is speeding through her training program. We didn't take this hiring decision lightly. Jimmydog's three previous CCOs (Jimmy, Joey and Freddie) left enormous paws to fill but we know Sally will grow into them. Just a few weeks on the job, she's written her first blog, or dlog, as she wants to call it. Read on to learn more about our latest hire and what she has planned as Jimmydog's CCO.
Hello everyone!
My name is Sally and I'm the new chief canine officer at Jimmydog. I'm actually still in training but I'm super smart and a fast learner so I think I'll get the official CCO badge (Is there a badge? I hope there's a badge! Maybe there's a sash!) in no time.
I know there was a least one other candidate for this job, but I felt confident I'd be the best choice, and Todd and Stephanie Belcher agreed, hiring me after only one interview. I came into this job highly qualified. I already know sit, down and paw. Paw is especially handy when I greet Jimmydog customers. And it didn't hurt that I'm an adorable terrier, making me the fourth adorable terrier to serve as Jimmydog CCO.
Only a few weeks into my official Jimmydog training program, I've mastered several of my responsibilities. I started with the floor manager duties. (You've got to make sure the comfy dog bed doesn't sneak off and get itself into trouble. The key, I've found, is to stretch out and lie on it.) And I've got Todd on a schedule of daily walks to keep him energized and creative for his long days of painting.
Being an over-achiever, I spent several hours on my first day — even though it was a weekend — carefully studying Todd's artwork. My job description says I need to be able to assist Todd with choosing colors and compositions. I don't know how much help he'll need because he seems to be very good at painting but I want to be able to provide advice if he gets stuck. I was especially impressed with the portraits of my predecessors, Jimmy, Joey and Freddie. I hope one day to sit for my own portrait. (Surely that day will come soon. I am so cute!)
I've made a few public appearances, being sure to be as cute as possible to attract attention to the business — and pets for myself. (I negotiated plenty of pets and tummy rubs from Todd and Stephanie as part of my compensation. Any extra pets from friends, customers and even strangers are bonuses I don't have to share with the Belchers! They are mine, all mine!)
And now, here I am writing this dlog. (You might know the term blog, but I like to put my own spin on things — and want to show Stephanie, Jimmydog's creative director, that I'm versatile and have a flair for marketing.) Anyway, this is my very first dlog and I think I'm nailing it!
A little more about me and my background since I haven't had time to get a LinkedIn page up. I'm a mini-Wheat, a 26-pound Wheaten terrier, just 1½ years old. I enjoy walks, car rides and playing with toys.
My previous employers made sure I was well-educated, and I am grateful but my talents weren't being used well in that job. They wanted a full-time yard supervisor, which is boring after a day or two. I enjoyed my co-worker, a nice lab, but we both decided we needed new opportunities.
I set about looking for an intellectually challenging position that came with a nice home office. Jimmydog has two great home offices: Todd has a cool art studio upstairs, Stephanie has her office downstairs, and I run back and forth between the two. To show my hustle, I usually skip the stairs, flying from floor to floor. (They don't have an elevator. I'm not complaining. The Belchers offer an excellent health insurance plan but I want to stay fit and healthy to avoid unnecessary trips to the vet. And, in my way of thinking, all visits to the vet are unnecessary!)
There's a small cafeteria between Todd and Stephanie's offices. I don't have unlimited access to snacks, and I'm going to have to discuss that with them, but Jimmydog provides all my meals and that's a great perk, plus I get after-work bones for unwinding in the evenings.
So, all in all, I couldn't be happier. I hope to have a long tenure here at Jimmydog. Heck, I may even retire from here someday — many, many years from now. (I'll have to ask about their retirement plan. That goes on tomorrow's to-do list!) I hope they're happy with me!
Woofs and wags,
Sally
5:46 pm | November 12, 2019
---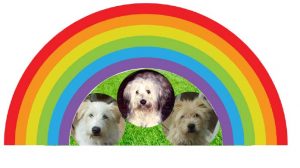 Our house has been quiet and, honestly, we've been lonely since Freddie crossed the Rainbow Bridge in September to be with our other dogs Jimmy and Joey. It was the first time in 17 years, we hadn't shared our life with a dog. Not long after Freddie crossed, we got a letter from Jimmy telling us that the three of them were taking on the task of finding our next dog, and they didn't let us down. We've just adopted Sally, a sweet little Wheaten terrier (we call her a mini-Wheat), who was wearing a red collar, just as Jimmy told us she would be. And soon after Sally arrived, we received this letter, explaining just how Freddie, Joey and Jimmy made sure she found her way into our home — and hearts.
Dear Stephanie & Todd,
We have been glued to channel 740 since Sally arrived at the house! Even Freddie has taken a break from her jam-packed schedule of long walks and LegLyft excursions to catch this must-see TV with Joey and me!
We've loved watching Sally explore the house, sniff the messages we left and play with her new toys. Freddie noticed that Sally already is preparing for her job as chief canine officer at Jimmydog, carefully studying the artwork on the walls and examining the dog statues that Todd has painted so she can fully understand his style.
She's been fun to watch, but what we've loved most is seeing the two of you warming to a new dog.
We think she's just about perfect. Cute, smart, energetic, curious, affectionate.
As we said in our last letter, we took our job of finding the next member of the Belcher pack very seriously. As important as our jobs as ambassadors to the Rainbow Bridge Newcomers Club are, we knew our search for your next dog would be the most important thing we've done since crossing the bridge. (And then our friend Biscuit found that perfect new girl Callie for her family and the stakes got even higher. We couldn't be outdone!)
Freddie, Joey and I had a meeting and envisioned our ideal dog for you. Most importantly, we decided she would need to love walks, car rides and outings. And, in keeping with our family tradition, we thought it best if she was an adorable terrier type, just like the three of us. We also decided she should be a little smaller than we are. (No offense, but you aren't getting any younger and we want you to be able to pick her up easily for many, many, many years to come!)
Complicating things was the fact that we weren't only searching for a perfect pet for the two of you, we were going to be finding the next CCO for Jimmydog. She would need to provide inspiration for Todd's painting, keep both of you on task during the workday and serve as spokesdog for the business. As former CCOs ourselves, we understood we had left big paws to fill!
For several weeks, Joey and I spent each morning helping get the new Rainbow Bridge arrivals settled and then, instead of playing or napping, we searched PackFinder and the rescue pages of Snoutbook. So many dogs need homes! (Too many dogs need homes!) At first, Joey wanted to send them all to live with you.
"Stephanie and Todd are the best people ever!" he would say. "All these dogs deserve to be part of the Belcher pack."
"Remember our criteria," I would tell him, pointing to the list that Freddie had written and taped to our living room wall as a reminder.
Each night, when Freddie returned from her daily outing and after we'd eaten dinner as a family, Freddie would review the dogs Joey and I had picked as possibilities.
"Nope. Nope. Maybe. Nope," she'd say, rapidly swiping left and right (mostly left) with her paw. We followed the same process day after day until about two weeks ago.
"Oh! I think this one is good." Joey said.
I took a look. She was a cute terrier mix, fond of walks. I agreed with Joey that Freckles was a solid contender and we ran a background check that came back clear. When Freddie got home, we rushed through dinner so we could show her the dog we'd found.
"Hmm," Freddie said, reviewing Freckles' profile and photos before studying the background check report.
"We think she might be the one," Joey said.
"She seems great," Freddie said. But we could tell she wasn't as excited as Joey and me. Her tail hadn't wagged once, not even a twitch. "Let me sleep on it."
Joey and I awoke to find Freddie already gone for the day, a Paws-It note stuck to our requirements list on the wall. "Keep looking. Love, Freddie," it said.
And so we did. (We always do what Freddie says!)
Then, just a few days later, we came across Sally, or Bingo as she was called in her before life. Joey saw her picture on PackFinder and before he even read her profile, he showed her to me. We both knew at first sight she was the one! No question: She would be the next Belcher dog.
Still, Freddie would demand a thorough review so Joey and I made sure she met all of our-agreed upon requirements. Check, check, check and check. Her background report was clear, too. We couldn't wait for Freddie to get home.
"Find any good candidates today?" she asked as we gnawed on after-dinner bones. This time, Joey and I had decided to play it cool.
"We found one who might be an option," Joey said as he slid his iPaw over to her.
Freddie took a look. She said nothing but her tail began to spin. She looked back as if to tell her tail, "Stop it!" Freddie raced through Sally's profile and background check and by the time she got done, her tail was spinning so hard her whole butt was swaying side to side.
"It's her! She's the one!" Freddie woofed. "Did you notice? She even looks a bit like me when I was a young pup!" (Joey and I exchanged looks. We realized that resemblance would help seal the deal for Freddie.)
We couldn't contain our excitement anymore. The three of us tumbled out into the yard, running, barking and clashing against each other until we were exhausted. When we headed back into the house, Freddie logged onto the site of the rescue caring for Sally and sent a Subliminal Message (it's kind of like a text message we send back across the bridge) that Sally needed to wear a red collar so Stephanie would be sure to recognize her. Then Joey fixed us a fresh batch of bones and we turned on the TV, flipping to channel 740.
On the screen, Stephanie was doing her own search of dog rescue sites, scrolling through dog after dog after dog. We could tell she was sad about things not working out with Freckles' adoption but we knew she'd understand why soon enough. Scroll. Scroll. Scroll. And then Stephanie stopped on the photo of a soft-coated Wheaten terrier, 1 ½ years old, 26 pounds, eyes bright, tongue out. The exact same photo that stopped Joey's search.
When we saw Stephanie begin to fill out the rescue's application, we had to run around outside for a second celebration. (Who knew this dog placement process would be so exciting — or tiring?)
Freddie agreed that she needed to stay put the next few days, and Joey and I called on substitute ambassadors to take over our official Rainbow Bridge duties. None of us could bear to miss the next episodes of "Sally Finds Her Forever Home."
The day Sally arrived at your house was the single best episode we've ever seen on channel 740, paws down, and we can't wait to see what happens next.
Tail wags and doggy kisses!
Jimmy
5:39 pm |
---
Like many people, we have loved animals since we were kids and both of us were lucky to have dogs and cats growing up. (Well, just dogs for Todd, who is, unfortunately, allergic to cats.) And that means we've said goodbye to many pets as they've crossed the Rainbow Bridge. We miss them, even those who left us decades ago. And so we were thrilled to get this letter from Jimmy, who, along with his pals Joey and Freddie, organized a big Belcher-Hayden pack reunion, inviting our beloved childhood pets on the other side of the bridge. It sounds like it was quite a party.
Dear Stephanie & Todd,
With Freddie's recent arrival on this side of the Rainbow Bridge, Joey and I thought it would be the perfect time to do something we have been wanting to do — have a big family reunion with the pets you've loved since you were kids.
Once we got Freddie to take a break from her daily escapades at The Freddie Belcher Follow Your Nose and Feel the Wind Trail System, Joey and I told her our idea and she was excited. "You know I'm always up for an adventure," she woofed.
So, we got to work planning the big day. First, we needed a venue. The obvious choice was Sniffing Butts, a big park that hosts pack reunions during the day and dating mixers at night. (We've got a couple of popular dating websites here, including Breeding Buddies, Mates for Life and its spinoff, Mates for Now. But that's a subject for another letter!)
Anyway, we booked a picnic shelter for an afternoon and moved on to the next task: creating an invitation. After spending countless hours supervising Todd while he painted, Joey and Freddie were eager to create artwork of their own. While they finished up the invitations, I took charge of arranging delivery. Pony Express had the best deal — two miniature ponies delivering invites and returning the RSVPs for the low, low price of four apple slices per invitation.
There was much more to do: We needed to hire a caterer, plan the games and make the reunion T-shirts. Joey and Freddie took on that last task, too, but wanted to keep the design hidden — even from me — until the big day. Very secretive, those two!
While they worked on the T-shirt design, I asked All Critters Catering to stop by the house. The smells of the samples lured Joey and Freddie away from their T-shirt designing and they helped me pick out a full spread. We chose grilled hot dogs and hamburgers (no buns, no condiments!), plus seafood kababs for lunch. For dessert, we'd put out freshly baked biscuits and catnip. To drink, the caterer suggested big bowls, each with a different water from streams and lakes in Georgia, North Carolina and West Virginia — a taste of home for each of us. At the end of the afternoon, the dogs would get goodie bags of marrow bones packed with soft treats, just like Todd used to make us every night, and the cats would take home bags of dried rodent bits.
"It's a perfect menu," I said, eating the last of the samples. "Oh, wait. Will there be something for Cassidy to eat? I don't want her to feel left out."
"Who is Cassidy?" the caterer asked. "She's Stephanie's family's raccoon," I explained.
"Cassidy will love it. Raccoons aren't picky," the caterer said. "But to make her feel included, we'll have bird seed as an appetizer and serve some of the food in trash cans."
For games, we decided on the classics: tug-of-war, chase, fetch and Capture Your Tail for the dogs and a hunting grounds for the cats.
It didn't take long for the RSVPs to come rolling in — and everyone was able to come! Todd's childhood dog Pebbles, plus everyone from Stephanie's big pack — her childhood dogs, Gutenberg, Pica and Comma; and her cats, Copy Cat, Onyx and Corey. The delivery ponies reported having trouble getting Cassidy's invitation to her in her tree house, so we gave them a couple of carrots for their efforts and were excited to learn she could make it, too.
The night before the reunion, we were so excited we could hardly sleep. Early that morning, Joey and I found Freddie in the driveway, tail wagging from the front seat of a Leg Lyft. It was hours before we needed to leave, but Joey and I hopped in, the three of us taking the long way around to Sniffing Butts.
When we arrived, we recognized our pack immediately, each dressed in the T-shirts Joey and Freddie designed — a photo of Todd and Stephanie on the front and Todd's paintings of all the pets on the back. I have to say, I teared up a little at the sight.
We trotted over to greet Cassidy, who was playing in the water bowls, her shirt soaking wet, and saw she wasn't alone. "Hello!" she said. "Thank you for inviting us. Let me introduce my kids." She rattled off a lot of names we couldn't quite catch. "Stephanie never knew my children. Later in life I moved to a zoo, where I met my husband and started my families. I thought you wouldn't mind if I brought them along."
"The more the merrier!" I said. "Glad you could come."
As we chatted, a big setter mix bounded up. "Hi! You must be our hosts! I recognize you from channel 740 on TV. I'm Pica! Thanks for throwing this shindig. I saw you took a Leg Lyft. I took a Leg Lyft, too. Sometimes I just call a Leg Lyft and ride around, even if I don't have anywhere to go." Pica was woofing a mile a minute.
Freddie's tail wagged faster and faster. She and Pica were going to get along great. She said, "Someday, Pica, you should take a Leg Lyft over to our neighborhood. There's a new park there I think you might like." And with that, the two of them ran off, sharing stories of their all-time favorite rides.
Joey and I made our way to the food, where Gutenberg was piling his plate high with toast — a special request he'd made on his RSVP card. Joey, Freddie and I hadn't understood it at the time but wanted to be good hosts and called the caterer to ask that a spread of white, wheat and rye be added to the buffet.
"Enjoying yourself?" I asked. "Oh, yes! And thanks for the toast," Gutenberg said. "You must have thought it was a strange request. But years ago, when Stephanie was just a little girl, she and I had an adventure in the woods. As we wandered, we came upon an abandoned house, where she found some snacks and fed me toast. It was a nice moment. So, this is my 'toast' to her," he said, handing me and Joey a piece.
After a while, the cats Onyx, Copy Cat and Corey took a break from tracking mice in the hunting grounds. Although still early in the game, Onyx had taken a commanding lead, with six plushie mice hanging by their tails on the scoreboard to Corey's two and Copy's Cat's one. "Join us?" Copy Cat asked, heading over to a fire circle that took the chill off the brisk fall air. Copy Cat and Corey curled up together, Corey gently petting Copy Cat's head with his paw.
I didn't mean to stare, but Corey's attire was odd: He was wearing the official reunion T-shirt, but over a bulky cardigan. Cats aren't usually fond of wearing clothes and here Corey was, layered up. "It was Stephanie's mother's," he explained. "I wore it in honor of their family, who took such good care of me. I used to love to sleep in a pile of Elaine's sweaters. I've got a similar pile in my house here. Cozy!" It was a reminder about the magic of the Rainbow Bridge, where every animal is given exactly what they need to be happy here.
"When everyone's ready, I brought a camera to take a group photo," Onyx told us.
"That's a great idea! We hadn't thought of that," I said.
"Happy to do it. Before I crossed the bridge, I used to do a lot of newspaper modeling, but here I like being on the side of the lens," he explained. (The modeling career made sense, I thought. Solid black, sleek and shiny, Onyx was a handsome guy.)
Joey and Comma, a cockapoo mix, who had been playing a rousing game of chase nearby, took a break to join us by the fire pit. Comma roasted a stick from a shrimp kabab over the flames and then gnawed the warm wood contentedly.
"Looks good," Joey said. "Have you tried one of the stuffed marrow bones? Let me get you one." Joey returned with bones, showing Comma how to drop them on the ground, chew and trade them in the way that he and Freddie invented. Comma suggested roasting the marrow bones over the fire to give them a char, and Joey agreed it was a delicious twist.
Joey and I had lost track of Freddie, but then she reappeared with Pica and Todd's dog Pebbles, the three of them swapping tales of their best-ever walks.
"I used to take the greatest walks with Todd and his parents," Pebbles said. "We'd go to the Agricultural Center, Gaston College and Carr Elementary School. The buildings weren't that fun, but there were great woods and trails!"
"That must have been where Todd got his love of taking long walks with his dogs," Joey said. And with that, all the dogs decided to stroll again around the park, passing Cassidy and Corey, who were climbing a tree together.
And so it went for hours. We ate, we played, we talked and we walked. Before we knew it, the All Critters Catering crew was cleaning up to make way for a Mate for Now speed dating event.
"We should do this again," Cassidy said, sending her children around to gather leftovers before the caterers could wrap everything up.
"Yes! Yes!" everyone woofed and meowed.
As we huddled for a final group photo — dogs in back, cats in front, raccoons hanging from the roof of the picnic shelter, I promised to send everyone copies via Pony Express.
"And I want to thank you for coming," I told the group. "Freddie, Joey and I have always known that Stephanie and Todd were the best people ever and today we learned that they've been the best people forever. Even as kids, they loved and took care of you. We've all been lucky to be part of their pack."
Gutenberg ran over to the table, snatching slices of toast away from one of the caterers. He passed a piece out to each of us. "A toast to Stephanie and Todd," he woofed, holding up a slice in his paw. "Yes," we cheered. "To Stephanie and Todd!"
Tail wags and doggy kisses!
Jimmy