7:29 pm | May 26, 2020
---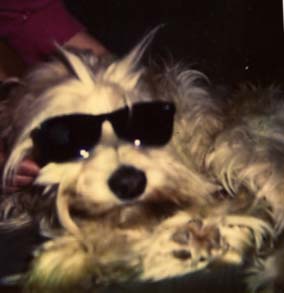 There once was a dog named Jimmy. We hope you enjoy more of Todd's memories of this remarkable pup.
When Jimmy was around 10 years old, he had two run-ins with the police, both occurring within the same year. This was his only crime spree except for the occasional pedestrian violations that he was quietly guilty of during his walks.
The first incident occurred at a hotel. We always took Jimmy on our trips, and one weekend we traveled to Athens, Georgia, for a surprise birthday party for Stephanie's mother. On the evening of the party, we had to leave Jimmy alone at the hotel for a few hours. Jimmy was usually well behaved, but on this night — for some reason — he howled constantly, prompting the people in the next room to call the police. Luckily the hotel clerks were very understanding, and when the police arrived told themn it was a dog friendly hotel and all was well. Jimmy was saved from a night in the pokey.
Later on that year we were staying at Stephanie's father's house in New Jersey. We went to New York City for an evening and had to leave Jimmy alone in the house. Somehow he tripped the security system, which automatically alerted the police. When we arrived at the house, the police were there with an automated voice repeating, "Alert: Sector A." Jimmy greeted us at the door, unaware of the trouble he had caused. Jimmy was reluctant to cross state lines after these two encounters with the boys in blue.