5:50 pm | May 19, 2020
---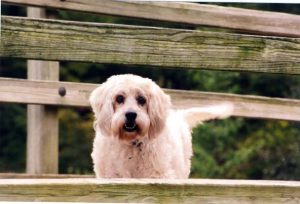 There once was a dog name Jimmy. Happily sharing another of Todd's memories about Jimmy and our adventures together.
When we lived in Walkertown, North Carolina, we usually got home from work around dusk and was unable to take Jimmy for a walk at the local park before closing time. Instead, we would take him for treks around the local shopping center parking lots. It seems like we walked around every shopping center in Walkertown, Kernersville and occasionally Winston-Salem, passing by and behind every store imaginable: Roses, Walmart, Kmart, Dollar General, etc. Since Jimmy was a friendly dog, shoppers would often pet him. One of his favorite things to do was to step on the automatic door pads to open the doors. At the Walkertown Shopping Center he would always open the door to Eckerd's, walk in a couple of feet and bark at the customers. Some of the staff became accustomed to his routine and would look forward to seeing him.
On our parking lot walks we went behind restaurants, department stores, video rental shops, newsstands, even a bowling alley. He was especially interested in the sounds coming from the back of the bowling alley near where the ball crashed into the pins. We had to be especially careful walking behind restaurants to avoid discarded food. Sometimes we would walk around the parking lots and playgrounds of schools. One time Jimmy sifted out a five-dollar bill behind an elementary school. He also loved walking up the school's ramp and stairs to get a good view.
No matter where we roamed, Jimmy loved a ride in the car and a good walk.