7:01 pm | August 20, 2018
---
Everyone has that one go-to friend they can always call when they need an understanding ear or a shoulder to cry on. Maybe he or she was a college roommate or perhaps you've known each other since kindergarten. It's a bond you cherish, but the human BFFs of the world are faced with some stiff competition. Two-legged companions just can't compare to a furry, wagging package of pure loyalty and devotion!
These 10 pieces of evidence prove beyond a resonable doubt that your dog is your REAL bestie!
1. You share everything. Food, furniture, clothing – nothing is off limits between best friends!
2. They know how you're feeling without you saying a word. Dogs have an uncanny ability to sense our emotions and respond in just the way we need them to. When we are down, they provide a calm, quiet presence and when we are up, they exuberantly join us as we hop around and dance!
3. They make you feel like a celebrity with their joyful greetings. Seriously, has any human ever been as excited to see you as your dog is every single time you show up? Our canine BFFs help keep us humble and grounded, but they also remind us that in their eyes, we are Beyonce! (or Jay-Z as the case may be!)
4. They've seen you at your worst – and vice versa!
A best friend is someone who allows you to be comfortable with yourself, warts and all. Our dogs have seen and smelled it all – bedhead, coffee breath, post-workout funk, those 15-year-old slippers – and their love for us never wavers.
5. They remind you to appreciate the little things in life.
When was the last time you hopped in a puddle just to see the splash or caught a snowflake on your tongue? Dogs go through life without ever losing that magical, childlike wonder. Being with them helps us slow down and appreciate the beauty of the world.
6. They inspire you. Best friends don't just tell you what you want to hear. They are always there to support you, but they also aren't afraid to let you know when it's time for an attitude adjustment – or a new hairstyle! Our dogs may not be able to talk, but their pure, honest adoration helps remind us of the people we truly want to be. "Be the person your dog thinks you are!"
7. Anyone who messes with you had better watch out!
Bad breakup? Bully at work? Just let your dog at 'em! Our pups are so deeply devoted to their human besties that they'd happily lay down their lives to protect us. Countless canine heroes have done just that.
8. You have a good time together no matter what you do. Only true BFFs can have a blast doing something as mundane as a Costco run. That's one of the many fabulous things about dogs. Everything is fun and exciting as long as they are by your side!
9. They are always there when you need a helping paw.
Human friends tend to scatter when it comes to the boring things in life like rides to the airport and moving days. Your pup may not be able to drive or carry your sofa, but you can bet she'll be there for emotional support. And there's no better cheerleader to motivate you while you work!
10. You make each other's worlds a little brighter.
When you come right down to it, we choose our best friends because of the way they make us feel. Dogs enrich our lives by bringing love, laughter and joy to our world because for them, we are their whole world!
Written by Dina Fantegrossi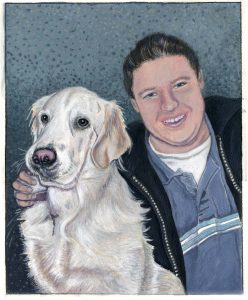 4:12 pm | August 10, 2018
---