8:42 pm | October 19, 2017
---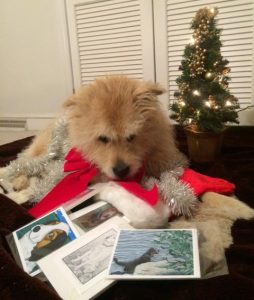 The holidays are just around the corner and Jimmydog's Chief Canine Officer Freddie realizes it can be a stressful time for people. Always wanting to help, she's put together a holiday gift guide that will make your holiday shopping quick, easy and stress free. Even better: The loved ones on your list will receive a thoughtful, meaningful gift they'll truly cherish.
I don't buy many gifts because I don't have anywhere to keep money and haven't gotten the hang of online shopping. But the holidays are coming up and I know you've got plenty of shopping to do. So, I'm offering my services. Think of me as one of Santa's elves or your personal shopper.
Here's what I suggest: Commission custom portraits by Todd Belcher for all your loved ones (or at least for your most beloved loved one!). You might be saying, "Of course, Freddie would suggest that." Yes. Of course, I would suggest that—because a specially commissioned custom portrait of a favorite pet, beloved family member or cherished friend is The Perfect Gift.
This isn't just my well-considered opinion. It's a fact. I'll give you 10 reasons why:
A custom portrait is unique. At Jimmydog, we work with each client to create a one-of-a-kind portrait. You choose the medium (pencil, colored pencil or acrylics) and the size (from 8×10 to 24×30; custom sizes, too). And using your photos, together we'll come up with the best composition, color palette and background for your portrait. (I often weigh in on these important decisions because I've developed quite an eye for these things!)
A custom portrait is a true piece of art. There are online services that will take a photo and gussy it up with filters and screens and even print it out on a canvas for you. But none of those are true works of art. Todd depicts his subjects in richly dimensional environments and is known for capturing the spirit and personality of the pets and people he paints. Todd approaches each subject with empathy and care to create a distinctive piece of original art.
A custom portrait is surprisingly affordable. Our prices start at just $175 for unique artwork created just for you. Check out Jimmydog.com for our easy-to-understand pricing guide.
A custom portrait is thoughtful. Your loved one will know you didn't just grab a gift card off the rack at the last minute. A portrait shows you've taken the time to think about what they love most and commissioned a well-known portrait artist to create a gift specifically for them.
A custom portrait is perfect for all ages. Whether age 15, 35 or 85, everyone is touched by the gift of a portrait featuring their favorite people or pets.
A custom portrait is perfect for all sizes. Unlike with clothing, you never have to worry about a portrait not fitting. Todd paint portraits in sizes from 8×10 to 24×30—perfect for every budget and any home. Custom sizes are available, too.
A custom portrait is timeless. Every holiday season, there's a trendy "must-have" gift. And by the next year, that once-hot item is sitting in a drawer or closet, forgotten. A custom portrait never goes out of style and will be treasured for years to come.
A custom portrait is perfect for the person who has everything. Everyone has that hard-to-buy-for person on their list—the one who doesn't need any more clothes, knickknacks, electronics or stuff. A custom portrait is a thoughtful, highly personal gift. Even the person who has everything will enjoy hanging their portrait in a place of honor in their home.
A custom portrait endures. While cookie tins and fruit baskets make delicious gifts, they don't last long (at least not around our house!). But a portrait will bring your loved one years of enjoyment. In fact, portraits often take on more meaning over time—for instance, becoming a treasured memorial of a pet who later crosses over the Rainbow Bridge. And, practically speaking, all Todd's portraits are created on acid-free, nonyellowing heavy paper stock. Plus, we can give you additional framing tips to make sure your portrait never loses its original detail and vibrancy.
A custom portrait is easy to commission. We've got a handy explainer on Jimmydog.com that walks you through the process step by step. It's super easy and Stephanie Belcher is happy to answer any questions you might have. (One of my jobs as chief canine officer is guaranteeing that Jimmydog provides stellar customer service and I promise you that Stephanie is the best!)
See? The Perfect Gift.
Now all you need to do is visit our website at Jimmydog.com, call us at 336-201-7475 or email us at todd@jimmydog.com. And don't forget: We also offer gift certificates. They make great gifts, too!
And because you don't have to worry about your holiday shopping anymore may I suggest you tackle another item on your holiday to-do list, like making dog cookies for your favorite canine pals. (I like the ones shaped like squirrels!)
Yours in dogness,
Freddie