4:04 pm | June 16, 2021
---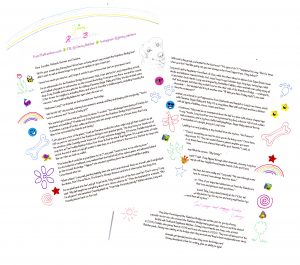 Several weeks ago we learned that our precious niece dog Lucy had gone to the bridge. We took comfort knowing that her best cousin Jimmy was there to welcome her with open paws. So happy to receive a copy of the letter he sent to our sister and her family to let her know how well Lucy was settling in. It's so comforting to learn what a wonderful life our pets have at the bridge.
Jimmy is always happy to give anyone the latest news about their pets. If you'd like a personalized letter about a pet who has crossed the Rainbow Bridge, you can get the process started at fromtherainbow.com
Here's the full text of this wonderful letter:
Dear Jennifer, Richard, Summer and Jessica,
Hi! It's your cousin dog Jimmy here! We've been so busy since Lucy crossed the Rainbow Bridge but I didn't want to wait a minute longer to give you an update on your sweet girl.
I know how much you miss her, and I hope it comforts you to know that she's in great paws here!
As an ambassador for the Rainbow Bridge Newcomers Club, I was alerted to Lucy's impending arrival, and I rallied a big pack to welcome her as she crossed the bridge. Everyone was there: me and her cousin dogs Joey, Freddie and Luna, plus her fur siblings Panama, Sugar Baby and Toby. We also invited some of her former fur neighbors, including Bobo, and a few of Jennifer's childhood pets, including Cassidy the raccoon. Lucy could hardly believe her eyes when she saw us!
"Welcome, Lucy!" we shouted as she bounded over the bridge.
"Hi! Hi! Hi! Hi!" she woofed, running from animal to animal, sniffing and playing with everybody. "You're here to welcome me? I'm such a lucky girl!"
"We wanted you to know that you'll never be alone," I woofed. "You will always have plenty of friends for playtimes and cuddling!" (Freddie and Joey had made sure the Rainbow Bridge Pack Placement Committee, a group of border collies and bossy cats who assign everyone to a house, knew that Lucy likes to be surrounded by friends and family.)
"Let's give you a tour of the place," I said as Panama woofed for bus-style LegLyft that could fit us all as we set out to visit several Rainbow Bridge parks. The dogs hung our heads out of the windows, while Cassidy snuck treats out of Lucy's welcome doggy bag. Of course, Freddie insisted we stop first at The Freddie Belcher Follow Your Nose & Feel the Wind Trail System. It's a great series of trails and at the end of each, a LegLyft awaits to take dogs on a short drive to the next one. Perfect for dogs who like car rides as much as walks!
"This looks like it would be a great place to run," Lucy said. "I used to love to run with my mom." As she looked at a trailhead, Lucy realized that she had left all of her aches, pains and ailments behind as she crossed the bridge. "Yippee!" she shouted, sprinting down the wooded trail like a puppy. Luna chased after her.
"What a blast," Lucy said, panting happily when she and Luna returned. Next, we toured Lake Everybody in the Water, Don't Fence Me In, The Grass Is Always Greener and lots of other parks that dogs love.
As we piled back into the LegLyft to get lunch, Toby noticed one of the tires was flat. "Don't worry," Lucy said. "My dad taught me everything about cars. I know what to do." Then she hesitated for a minute. "But I'm all paws!" she lamented. Cassidy piped up: "I can help. I'm pretty handy!" Within minutes, Lucy and Cassidy had us back on the road.
With such a big group, we headed to the food court. "It's open 24/7," I explained to Lucy. "But for times when you don't feel like going out, you can always order from Pupper Eats. They deliver!"
Lucy and I split a big platter from Bark-B-Que, while the others dined on dishes from SuperSticks (meat kabobs and delicious roasted sticks, too), Legs! Legs! Legs! (chicken legs, frog legs, turkey legs, table legs) and other food stands. Lucy was intrigued by Forbidden Edibles, where animals can safely enjoy all the stuff their people told them they couldn't eat on the other side of the Rainbow Bridge — underpants, socks, chocolate — but decided she'd try it another time. "I'll take you there Friday night," Luna said. "It's my favorite restaurant!"
That plan settled, we ordered to-go Puppuccinos from Starbarks and headed to Lucy's new house, which she shares with Panama, Sugar Baby and Toby. It's a cozy place filled with soft beds and has a kitchen fully stocked with all types of kibbles, stews, treats and bones.
"And here's your bedroom," Toby said as we scampered down the hall to a door with a bone-shaped sign that read, "Sweet Lucy." Inside, Lucy found her own monogrammed dog bed, a dresser full of cute collars and outfits for special occasions, and a toy box stuffed with playthings. Sugar Baby opened the top drawer of the dresser and pulled out a purple jersey in Lucy's size.
"Perfect fit," Lucy said, pulling it on and grabbing a tiny football from the toy box. "Go Ravens!"
"That reminds me," I said. "There's something we need to show you in the living room." Once there, we all settled in front of the big screen TV. "You can watch Ravens games anytime you want. Or anything else you like. But we think there's one channel that will be your favorite," I said, as Joey pushed XXXX on the remote.
"My family!" Lucy said, as an image filled the screen. "My family!"
"You can watch them anytime you want," I said. Joey flipped through other channels, showing Lucy how she can also use the special TV to keep up with her neighborhood people friends John and Carol, and Carolyn and Brandon.
"I know everyone thinks their people are the best, but mine really are," Lucy said. "We went through some tough times together. They were always there for me and I was always there for them."
"And you can still be there for them," I told her. "One of our important duties here at From the Rainbow is to watch over our people — to repay them for their love and giving us such good lives."
Cuddled up on the sofa with Panama, Sugar Baby and Toby, Lucy stared intently at the TV, her tail wagging. "I can do that!" she said. "Every single day before I go for my run and every night before I go to bed, I will check channel 1933 and send them all my love."
Tail wags and doggy kisses,
Jimmy