4:24 pm | November 20, 2019
---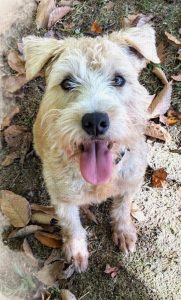 After an intensive search, Jimmydog is pleased to announce it has hired Miss Sally as its next chief canine officer, perhaps the most important role at the company. Sally has no prior experience as a CCO but we saw in her an intelligence and drive that make her well-suited to the role, and she is speeding through her training program. We didn't take this hiring decision lightly. Jimmydog's three previous CCOs (Jimmy, Joey and Freddie) left enormous paws to fill but we know Sally will grow into them. Just a few weeks on the job, she's written her first blog, or dlog, as she wants to call it. Read on to learn more about our latest hire and what she has planned as Jimmydog's CCO.
Hello everyone!
My name is Sally and I'm the new chief canine officer at Jimmydog. I'm actually still in training but I'm super smart and a fast learner so I think I'll get the official CCO badge (Is there a badge? I hope there's a badge! Maybe there's a sash!) in no time.
I know there was a least one other candidate for this job, but I felt confident I'd be the best choice, and Todd and Stephanie Belcher agreed, hiring me after only one interview. I came into this job highly qualified. I already know sit, down and paw. Paw is especially handy when I greet Jimmydog customers. And it didn't hurt that I'm an adorable terrier, making me the fourth adorable terrier to serve as Jimmydog CCO.
Only a few weeks into my official Jimmydog training program, I've mastered several of my responsibilities. I started with the floor manager duties. (You've got to make sure the comfy dog bed doesn't sneak off and get itself into trouble. The key, I've found, is to stretch out and lie on it.) And I've got Todd on a schedule of daily walks to keep him energized and creative for his long days of painting.
Being an over-achiever, I spent several hours on my first day — even though it was a weekend — carefully studying Todd's artwork. My job description says I need to be able to assist Todd with choosing colors and compositions. I don't know how much help he'll need because he seems to be very good at painting but I want to be able to provide advice if he gets stuck. I was especially impressed with the portraits of my predecessors, Jimmy, Joey and Freddie. I hope one day to sit for my own portrait. (Surely that day will come soon. I am so cute!)
I've made a few public appearances, being sure to be as cute as possible to attract attention to the business — and pets for myself. (I negotiated plenty of pets and tummy rubs from Todd and Stephanie as part of my compensation. Any extra pets from friends, customers and even strangers are bonuses I don't have to share with the Belchers! They are mine, all mine!)
And now, here I am writing this dlog. (You might know the term blog, but I like to put my own spin on things — and want to show Stephanie, Jimmydog's creative director, that I'm versatile and have a flair for marketing.) Anyway, this is my very first dlog and I think I'm nailing it!
A little more about me and my background since I haven't had time to get a LinkedIn page up. I'm a mini-Wheat, a 26-pound Wheaten terrier, just 1½ years old. I enjoy walks, car rides and playing with toys.
My previous employers made sure I was well-educated, and I am grateful but my talents weren't being used well in that job. They wanted a full-time yard supervisor, which is boring after a day or two. I enjoyed my co-worker, a nice lab, but we both decided we needed new opportunities.
I set about looking for an intellectually challenging position that came with a nice home office. Jimmydog has two great home offices: Todd has a cool art studio upstairs, Stephanie has her office downstairs, and I run back and forth between the two. To show my hustle, I usually skip the stairs, flying from floor to floor. (They don't have an elevator. I'm not complaining. The Belchers offer an excellent health insurance plan but I want to stay fit and healthy to avoid unnecessary trips to the vet. And, in my way of thinking, all visits to the vet are unnecessary!)
There's a small cafeteria between Todd and Stephanie's offices. I don't have unlimited access to snacks, and I'm going to have to discuss that with them, but Jimmydog provides all my meals and that's a great perk, plus I get after-work bones for unwinding in the evenings.
So, all in all, I couldn't be happier. I hope to have a long tenure here at Jimmydog. Heck, I may even retire from here someday — many, many years from now. (I'll have to ask about their retirement plan. That goes on tomorrow's to-do list!) I hope they're happy with me!
Woofs and wags,
Sally