3:05 pm | June 20, 2018
---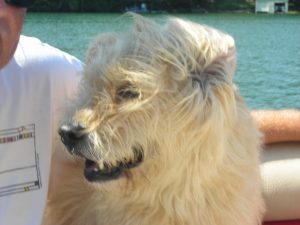 Our dog Freddie loves boat rides and wants to share her passion for the water with her dog friends. She knows safety comes first and offers tips to make outings safe and fun for everyone. When you see her out on the lake, be sure to give her a wave! And if your dogs are avid boaters, post pictures of them on the water. We'd love to see them.
Dear friends,
If you need to find me this summer, I'll be at the lake.
Now that I'm semi-retired from my role as chief canine officer at Jimmydog, I have even more time for adventures and with summer's arrival that means boat rides.
Not to brag, but I'm a natural first mate, comfortable on the water, good at spotting fish and helpful navigating the boat. ("Go that way!") I don't have my own boat, but we have a family friend with one and that's the next best thing. Bryan is an excellent captain who likes to take his own dogs, Amos and Piper, out fishing and they often invite me to come along for a day on the lake. I always ask if Todd and Stephanie, the best people ever, can come, too, and Bryan always says yes. He's very nice.
For dogs, boating is the best. You're out in the sunshine, breeze blowing in your fur. And the smells. Oh, the smells! Fish and suntan lotion. Hot dogs and beer. Delicious dead, decaying stuff in the water and along the shoreline.
I'd like my dog friends to join me on the water this summer, whether you sail on the ocean, take a pontoon out on the lake or kayak down the river. Get out there! But before you do, here are some tips to keep you safe on your excursion. (Don't worry, dog friends, this is mostly stuff your people need to do. Read through it with them and then you can take a nap while they get everything ready.)
* Keep the first trip short. If you've never been on a boat, ask your people to keep your maiden voyage short. Sure, you're excited thinking, "Let's go for the day!" but not every dog is the expert sailor that I am. You don't want to set out for a three-hour tour and discover the waves make you seasick and the movement of the boat freaks you out.
* Get a life jacket. I don't wear one myself because I don't swim a lot—I'm more of a sunbather. If you plan to spend a lot of time in the water, get your people to invest in a good life jacket. It will help you float and it has a handle on the back that lets your people scoop you out of the water, if necessary. Life jackets come in different colors and styles, so you'll look super cute in yours.
I know what you expert swimmers are thinking: "I don't need a life jacket. I'm no amateur dog paddler." I get it. Labs, retrievers, all you Portuguese waterdogs out there, you're born to swim, yet it's best to be safe. You never know when you're going to face choppy water or just tucker out.
Speaking of safety, experts tell me dogs should be outfitted with harnesses instead of collars while boating. Again, it's about making it easy for your people to grab on and help you. So, let them put the harness on, even if gives you awkward tan lines!
* Make a "dog overboard" plan. If you're new to boating dog friends, here's the rule: Stay on the boat until your people say it's OK to swim. Yet we know there are times when following the rules is too hard: If you see a fish jump, you must dive in after it. You have no choice. This can make your people panic so they should have a plan (cut the engine, call to you to return to a specific part of the boat, jump in after you, etc.).
* Bring fresh water. Whether you're heading out on the ocean, a lake or a river, you'll need your people to bring along a bowl for you and plenty of fresh drinking water. We can't drink salt water and even though lake water and river water are delicious, they aren't good for dogs to drink. Even clear, clean-looking water contains invisible creepy crawlies that can make us sick. If your people are especially considerate, like Todd is, they'll bring plenty of ice, too. Refreshing!
* Pack a first-aid kit. Accidents happen. You could step on a fish hook or get stung by a bee. (I'm getting stung by bees all the time lately! I've done nothing to them and yet they are after me!) Have your people put together a little first-aid kit with gauze pads, adhesive bandages, tweezers, Benadryl (for those bee stings!), Dramamine (for seasickness) and other items. Stephanie says I should remind you that your people need to check with your vet for the proper dosages and to make sure it's OK for you to take those medications. I will remind you not to take those medications unless your people put them in something yummy, like cheese.
* Provide a shady spot. Even if we've been splashing around in the water, it's easy for dogs to overheat once we're back on the boat and under the beating sun. Plus, boat decks heat up fast, burning our paws. If your boat doesn't have enough shade, ask your people to make you a temporary tent with towels.
* Bring extra towels. Ask your people to pack extra towels to wipe your paws and dry you off before everyone gets back in the car. They also are helpful if the water is too cold and your dog comes back onto the boat shivering. In that case, you'll want to wrap your dog in dry towels and give them lots of snuggles until their body temperature rises.
* Slather on that sunscreen. All dogs, especially those with light skin and white fur, can get sunburned. Did you know they make sunscreen for dogs? I did not! If your people can't find the doggy version, they can use sunscreen made for babies and children, as long as it doesn't contain any zinc or para-aminobenzoic acid (PABA). (Whew! I needed a little help with the spelling of that one!). Zinc and PABA are toxic to dogs, which Stephanie tells me means they are very, very bad. Your people should put the sunscreen on your nose, ears, groin and tummy—and you dogs should do your part by not licking it off, even if it's tasty.
Wow! That's a lot of preparation, equipment and rules! Don't worry. Your people will handle everything and it really shouldn't take them very long. Then you'll be ready to set sail. I'll see you on the water!
Yours in dogness,
Freddie