4:24 pm | September 26, 2018
---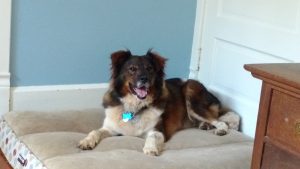 Freddie, Jimmydog's semi-retired chief canine officer, feels strongly about a lot of things, namely that daily walks are mandatory, nighttime chewy bones are delicious, and Stephanie and Todd Belcher are the best people ever. She also believes that #AdoptDon'tShop is more than a hashtag: It's the ideal way for people to bring a pet into their lives. Here she explains why.
Dear friends,
I want to tell you about my new friend Max. (That's him pictured on this post.) Max, an Aussie shepherd-border collie mix, spent most his life alone in a small backyard kennel, ignored by his people. He lived like that for eight years. Eight years! Then his people decided to move — and not take him along! To them, Max was an inconvenience, like a bone you've chewed all the good stuff out of and forgotten under a bush because a chipmunk ran past and you had to chase it. But a nice woman fostered Max and within a few weeks, he went to live at the loving forever home he always deserved.
And here's the thing: Max is the best dog! He's handsome and sweet. (I might have a little crush on him, but I don't let on because I'm a much older woman.) The vet says he's in excellent health. And he's well-behaved, hardly ever barks and never has accidents in the house. Plus, he's friendly to people (even the little unpredictable ones) and he likes other animals, except squirrels — and no one can blame Max for not liking squirrels. That's just good sense.
Why am I telling you about Max? Because Max is proof that rescue dogs make the best pets!
I'm getting up on my soapbox here — even though I don't like soap and don't have much need for boxes: There's no reason to buy a dog from a breeder when there are so many in shelters and foster care who need good forever homes! Same thing if you're looking for a cat or potbellied pig or any other pet for that matter. Adopt, don't shop!
Need more proof? Look at me! It's not bragging to say I was an adorable puppy and am now a beautiful mature dog. That's just facts. Stephanie and Todd Belcher, the best people ever and also the smartest for adopting me, say I've always been a good girl — well-mannered and mature. No bad puppy antics for me, even when I was little. And I've always been healthy. I'm nearly 16 now so I take a few medications and have slowed down but I still walk every single day and love life! My brothers Joey and Jimmy, who have both crossed the Rainbow Bridge, were rescue dogs, too. And they were the best!
Some people think that by purchasing from a breeder, they will get a dog without health or behavior problems, but no one can know for sure that a dog won't get sick or turn aggressive.
Other people think that rescue dogs have something wrong with them. That's not true either. Dogs end up at shelters for all sorts of reasons that aren't the dogs' fault: their people don't have time for them or the dog isn't as cute all grown up as it was as a puppy. (That last one makes me really mad: No one gets rid of a family member because they don't turn out to be a cute person!) Sometimes people divorce or die and there's nowhere for the dog to go; people fall on hard financial times. Or natural disasters separate them. (Honestly, this is all so upsetting to think about!)
However they end up there, rescue dogs have one thing in common: they deserve someone to love them and they want someone to love.
No matter what kind of dog you're looking for, you can find one at a shelter or rescue. Puppies. Young dogs. Seniors. Big. Small. Athletic and energetic. Cuddly and laid-back. They've got 'em all.
I've heard some people buy from breeders because they love a certain breed or those designer mixes like maltipoos, puggles and chiweenies. Know what? Shelters and rescues are full of those, too. My friend Max is the cutest collsheppie you'll ever meet and I myself am an adorable wire-coated Cherrier. Now that's fancy!
Take a minute and scroll through Todd's portraits on the Jimmydog Pet Portraits Facebook page. Almost all of them are rescue animals— formerly abandoned dogs, cats, horses and even pigs who were adopted from shelters and rescues. And those animals became not just pets but members of the family, so beloved that their people hang their portraits in places of honor in their homes.
Pets bought from breeders can cost a lot, but a rescue pet is priceless!
Yours in dogness,
Freddie