6:15 pm | January 21, 2020
---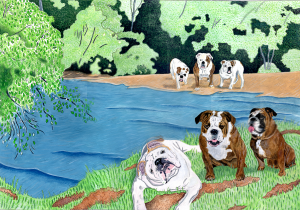 It is with a breaking heart that we say goodbye to one of our best friends. Without a doubt, Edgeworth was a king among canines. He had the biggest heart, loved and was loved by all who met him. The King has left the building. Run in peace, Edgeworth. 5/6/07–1/21/20.
Todd was honored to paint this portrait of Edgeworth and his earthly pack mates, Bixby and Blossom and those who came before him here on earth, Georgia, Handsome and Gnarly. We know that our rainbow pups were there to greet him and get him all settled in. We're sure we'll hear from Jimmy soon with all the details.
Our deepest condolences to our dear friends Kathleen Graham and her husband Kev.