7:15 pm | January 22, 2020
---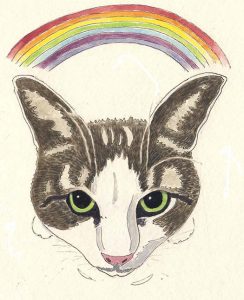 Jimmy and our Rainbow Pack are wonderful at keeping us updated on so many of your beloved pets as they cross the bridge. This urgent dispatch just arrived.
Dear Gina Burlovich
Hi! It's Jimmy from the Rainbow Bridge with a quick update: Your handsome boy Simon MacFurrgus has arrived safely!
What a sweet cat! My pals Joey and Freddie and I met Simon as he crossed. Cats are sometimes confused by a trio of dogs being ambassadors for the Newcomers Club, but after we took Simon to lunch at Tank (they have the best fresh fish) then dessert at Cheesemongers, he trusted us completely! He especially likes Freddie, who promised to take him to the Catch Me If You Can Avian Hunting Grounds and Mole & Vole Village. For every critter he "catches," he'll get a plushie bird or critter.
Simon loves his house here — a place designed with a cat's every need in mind. The walls and ceilings are covered in pathways and perches. A fireplace keeps things cozy and Simon can display his hunting trophies on its mantel. As we headed out, Simon settled into a chair warmed to 98.6 degrees and shaped like a woman's arms. Purring softly, he said, "This place is perfect! And this chair is so comforting — just like my wonderful mom."
Tail wags and doggy kisses!
Jimmy