5:20 pm | January 30, 2020
---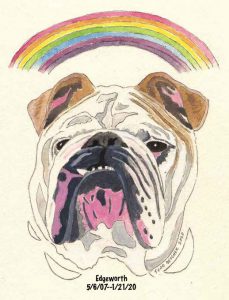 Last week we shared the sad news about our good friend Edgeworth as he made his journey to the Rainbow Bridge. Our rainbow pack was there to greet him and our good boy Jimmy made sure to quickly get a letter out to his family so they can rest easy knowing he's safe and cared for. They have graciously let us share it with you.
Dear Kathleen and Kevyn,
Hi! It's Jimmy here. What a time we've been having since your sweet boy Edgeworth arrived!
When they heard he'd be crossing the bridge, Georgia, Handsome, Gnarly, Bixby, Blossom and JoJo piled into a special LegLyft limo so they could welcome him in style along with the official Newcomers Club Ambassador team of me, Joey and Freddie. As Edgeworth's pack rolled through the arrival area, it was quite a sight: each bulldog's rotund head hanging out a separate window, the breeze blowing back their jowls, and JoJo the cat sitting pertly in the driver's seat.
Edgeworth strolled across the bridge, a big grin across his muzzle, clearly thrilled to see his old friends and to meet his ancestral pack members.
"Edgeworth!" "EW!" "Worthy!" everyone shouted, the celebratory slobber of the bulldogs dripping all over the place.
"Hello! What a welcome!" Edgeworth woofed, surveying the landscape. "Is there anything to eat around here?"
Everybody laughed. We'd already made reservations at the Beef Bar, a rustic steakhouse with sawdust on the floors and giant pieces of meat on platters. Edgeworth ordered a bone-in filet and a bowl of beef stock to drink.
"Eat up, everyone," Bixby said, enjoying a chirp-and-turf dish of chicken and steak. "We've got big plans after this."
"I might be ready for a nap," Edgeworth said, chewing happily on his bone, the meat long gone.
"Don't worry," I said. "You can grab a quick nap in the limo." And so he did, as we made our way to The Dapper Dog. Before he arrived, we'd put together quite a wardrobe for him, filling a dresser and closet in his new bedroom with coats, collars, hats and bandanas for all seasons and all occasions. But now that he was here, we wanted him to pick out a very special outfit.
"Welcome to The Dapper Dog, where you'll find everything you need to be a well-dressed gentledog," a freshly coifed poodle said as our big group crowded into the store. "What can I help you with?"
"This is our new arrival Edgeworth," I said, as he moved to the front of the pack. "I think you had set some things aside for him to try on." "Of course," the poodle said, trotting off and then returning with an array of robes in rich shades of gold, red and purple.
"For me?" Edgeworth said. "For you!" I said. Edgeworth stood before a large mirror, admiring himself as Bixby and Blossom helped him in and out of each robe.
"I'm thinking the purple. Or maybe the red," Edgeworth said.
"Get both, and you'll also need this," Georgia said, placing a gold crown on his head. "And this," Blossom said, handing him a delicious-looking stick. It was shaped like a scepter, a red rubber ball standing in for bejeweling on one end.
"It's pewrrfect," Edgeworth mumbled, the scepter firmly in his mouth. He couldn't have looked more regal.
With their teeth, Gnarly and Handsome picked up the ends of the purple robe Edgeworth had chosen to wear out of the store, the two dogs trailing behind him like courtly pages, and off we went to our next stop: the Central Square. It's a lovely greenspace with a small pond in the center and, at one end, the Capital "Pee" Post Office. Most of us stop by there once a day to check our "mailboxes" — little numbered bonsai bushes where we leave each other messages.
Seeing benches built for a variety of differently legged animals, Edgeworth settled into a low-rise model suitable for bulldogs, dachshunds and the like. The rest of us lounged on the lush grass around him.
And, just as we expected, all the animals passing through the square began to make their way to Edgeworth, offering a welcoming "woof" or "meow." He even got a few "How you doin'?" oinks from a pair of potbellied pigs on their way to get mud masks at the Pampered Pig spa.
"Everyone is so friendly here!" Edgeworth said, just as our feline friend Zoe sauntered up. "What's your name?" she said, rubbing up against his robe, leaving bits of black fur on the fabric.
"He's King EW," JoJo said before Edgeworth could answer. Stretched in the grass with her eyes closed, we thought she'd been taking a catnap.
"But you can call me Edgeworth," he quickly added.
"That's a nice name," Zoe said. "Unusual."
"I was named after a very special woman," he said. And then he turned to me and Joey, "Makes me think. I might like to go back to The Dapper Dog and get a pink robe in her honor."
"Good idea," I said. "You've also got pink collars and bandanas in your wardrobe at home. And speaking of home, it's probably time to get you settled there."
We hailed another LegLyft limo and headed to the house Edgeworth shares with JoJo and all the bulldogs. The dogs settled into cushy beds on the floor, while JoJo climbed up to a snuggly perch in the corner of the living room.
"Can we watch TV?" Edgeworth asked. "Jimmy, I've read some of the letters you've sent back to the other side of the Rainbow Bridge. Knowing that I will be able to watch channel 2235 and see my family whenever I want made it easier for me to cross over myself."
When Freddie turned on the TV, the screen filled with an image of two kittens chasing each other around the room as a couple watched, laughing at their feline antics. Edgeworth's eyes lit up and his tail wagged. "Best TV show ever!" he said.
As we continued to watch the goings-on at 2235, I asked Edgeworth if he'd had a good time at the square. "You certainly are a popular guy," I said.
"I like everyone and I do try to make friends wherever I go," Edgeworth replied, his eyes shifting away from me and back to the TV. "But there's no one I'll ever love more than my mom and dad. They rescued me from a lonely life in a basement — and gave me a life fit for a king."
Tail wags and doggy kisses!
Jimmy