12:59 pm | August 11, 2020
---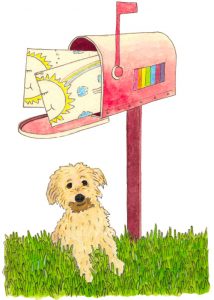 FromTheRainbow.com brings to life the magical world
that awaits pets when they cross the Rainbow Bridge
The death of a beloved pet is heartbreaking. Our dogs, cats and other animals become important parts of our families, their lives woven into ours. Their loss can leave a painful void.
The idea that pets cross the fabled Rainbow Bridge when they die has long brought solace to people mourning the loss of their pet.
And now a new website, FromTheRainbow.com, takes people into the magical world beyond the Rainbow Bridge, where animals are free of ailments and injuries, and where they run and play forever.
Jimmy, a poodle-terrier mix, is the guide to this delightful place, reporting regularly in blogs and on social media about his many adventures.
At FromTheRainbow.com, animals zip around in LegLyfts, spend hours playing at amusement parks like the Don't Fence Me In Dog Park & Recreation Area and Mole & Vole Village, and dine at restaurants, including Starbarks and Che Kibble. They gather 'round the Fire Hydrant to swap stories in the evening and use Snoutbook to stay in touch. In this world, you'll find many dogs and cats, but also guinea pigs, hamsters, sugar gliders, even some raccoons and pigs — because any pet that was once loved is welcomed.
In addition to his blogs, Jimmy writes personalized, custom illustrated letters to people who have lost a pet, updating them on their animal's wonderful new life. From the Rainbow letters arrive in a beautiful, custom illustrated envelope ($59.95).
Personalized letters also can be packaged with a 5×7 custom color pet portrait or with a custom fine art portrait (starting at $159.95). Detailed package options and prices are available at FromTheBridge.com under the Personalized Letters tab.
All of Jimmy's blogs and personalized letters are upbeat and fanciful, perfect for pet lovers of all ages.
From the Rainbow is a joint endeavor between Stephanie and Todd Belcher, and Julie A. Palm.
Stephanie Belcher, an art director and graphic designer, and Todd Belcher, a portrait artist, are founders and owners of Jimmydog Design Group and its associated business, Jimmydog Pet Portraits, founded in 2002. Jimmy, the voice and face of From the Rainbow, was the Belchers' first dog after they married.
Palm is chief wordsmith at Palm Ink LLC, a communications firm founded in 2014.
The Belchers and Palm are animal lovers, and support a number of animal rescue and welfare groups. FromTheRainbow.com includes a robust resources section to help people, especially those in North Carolina, be responsible pet owners. The website also includes a number of resources for people experiencing grief after their pet dies.
The Belchers have two rescued dogs, Sally and Luna. Palm has a rescue dog, Max, and rescue cat, Ozzie. The Belchers and Palm also have several pets who have crossed the Rainbow Bridge, and those animals frequently appear in Jimmy's From the Rainbow stories.